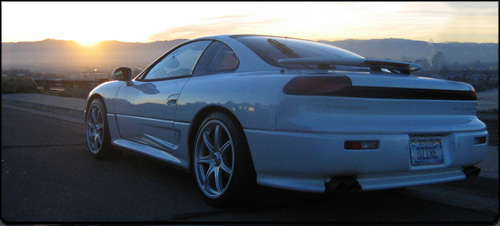 Vehicle History
The year was 1992. I remember this day as if it were yesterday - walking down the street with a friend of mine. I was young, I was interested in whatever youngers were interested in - but out of the blue something caught my eye.
Glistening under the sun, Pearl White paint showing the reflection of every moving branch on a tree nearby. It was a brand new, pristine condition 1991 Dodge Stealth, which I had rapidly learned from that very moment that these cars wouldn't just catch my eye that one time - but it would catch my eye for years to come.
Awestruck, my friend and I sat on the curb of that road for what seemed like hours - taking in the beauty of this rare automotive masterpiece. The elegant, sharp, modest with a touch of extreme yet subtle curves - this car was an innovator in more ways than one, and one day (I told myself), I would own one. There was no question about it.
Fast forward ten years, that day finally arrived. The car value and budget finally agreed, so I took the plunge. Enter a Pearl White 1991 Dodge Stealth R/T, purchased September 15th, 2002.
About Me
The name is Shaun, probably one of the most vein and conceited jerks you'll ever meet! I mean, come on - why in the world would I make a fansite for MYSELF?? Hah. Alright, in all seriousness, the reason I made this site is to share my love for these cars. I need an outlet. An outlet for all these photos, modification reports, reviews, etc. This is my method.
As it stands now, I currently own and run three different businesses. I've been a Mobile DJ for about 8 years now - doing everything from school dances, weddings and company parties to BBQs, house parties and club events. Ranging longer than that, I've been a web designer for nearly 10 years now. Starting Blizzard Web Design, which I've kept throughout the years to express my creativity. I am a graphic artist, making each and every graphic you see on this site and then some. This also includes the various album artwork that I've done for numerous bands and artists. Last, and definitely not least, I am also the owner of Midnight Haze Auto Concepts - which is my latest endeavor. Supplying 3000GT/Stealth aftermarket parts of all different types, which is something I have also always wanted to do. Quite the entrepreneur, or so they tell me.
I was originally born in Seattle, later a resident of Nevada and Oregon. Currently back in Nevada again, yet I still travel back to Oregon for family and friends from time to time.
So, enjoy the website, send me your love and hate email - and thank you for visiting.