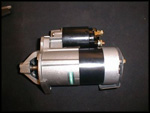 Starter Replaced
POSTED BY: Shaun Cameron -- 1/12/03

Not many things can compare to the gut feeling that you get when a car that you recently purchased won't start up anymore.

You know, turn key :click: :click: (repeat until you lose all sanity).
In a matter of months, it became time to replace the starter. Fairly painless, and mission accomplished.

It could have been worse, I tell myself.