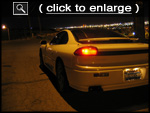 Cityside 2004
POSTED BY: Shaun Cameron -- 8/3/04
Good night shots are far and few between. Tonight I was on a roll.

Parking my car up along the hills, I ended up practicing my photography skills while the sun set. Overall, I took about 250 photos over a four hour period.
Here are the results. Which includes some of the best nightshots I've ever taken.

TO VIEW GALLERY, CLICK HERE: Nevada Cityside Photoshoot 2004