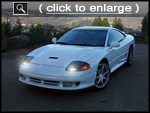 Gen1 Viper Hood
POSTED BY: Shaun Cameron -- 3/31/04
Using the photos from the last entry, the first generation Viper Hood concept photos are finally complete. These hoods are specifically designed for venting as much heat as possible out of the engine bay while ramming exterior air into the engine bay through the three signature Viper ducts.
This hood brings in the authentic center Viper scoop from earlier year Vipers, while aos sporting a style upgrade with a newly added 2003-2004 Viper vents on the sides. These side vents will later be used for a custom cold air intake that will work on both my car and fellow Twin-Turbo/VR4 owners as well.
From here, the hood goes into the production facility and becomes a reality down the road to later become a show-car centerpiece for these magnificent cars.
TO VIEW GALLERY, CLICK HERE: Generation 1 Viper Hood Concept Shots