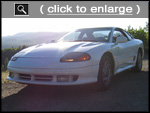 NorCal Photoshoot
POSTED BY: Shaun Cameron -- 5/6/04

During one of my many trips between Oregon and Nevada during our move, I could help but to stop and admire the beauty that Northern California has to offer. Trees as far as the eye can see, and nice, non-polluted air to breathe.
Today, I decided I would pull off and take some photos cliff-side. With rolling hills and mountains in the background, I snapped away at my bug riddled car. It was definitely ready for a wash by the time I got to my destination.
TO VIEW GALLERY, CLICK HERE: Northern California Photoshoot