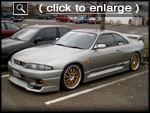 Nissan Skyline
POSTED BY: Shaun Cameron -- 11/24/03
Uniting with the Northwest Nissan club, yet another memorable parkinglot car show took place. Endless rows of 240sx's, 300zx's, 350zx's, and even a warmly welcomed Skyline were in attendance this year, as the Portland3s crew gathered a few members to represent the... non-Nissans.

We didn't come alone, however, as we also joined forces with the fellow Mitsubishi enthusiasts of the Club3G Eclipse club.
Our part of the gathering launched near PIR, as we joined up with Chris from Ultimate Performance, Nate, Steph and an unexpected unknown Stealth enthusiast with the race stripped, Viper-tagged blue first gen. My car was the minority for this part, as the only white 3s in a group of 4 other blue Stealth/3000GTs.

As the day continued we got together with another Portland3s member (Gary) who decided to drive his exotic Dolorian, as well as fellow female member Lara in her nicely done, body-kitted maroon colored 3000GT.
TO VIEW GALLERY, CLICK HERE: Nissan/3000GT/Stealth Beaverton Gathering