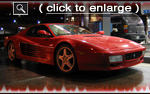 Joyride This
POSTED BY: Shaun Cameron -- 2/19/04
Here's the scenario: to most it's a rather mundane, boring and laid back Wednesday night. For us (Ryan and I), we have our own plans. And yes, it involves a Ferrari.
To make a long story short, we went for a little joy-ride. It was nothing too serious since the roads were soaked, but enough to get a few sideroad/highway video clips.

We consider this just a teaser video, mainly because down the road (perhaps when it's a bit warmer out), we plan on giving her another spin around town. Enjoy.